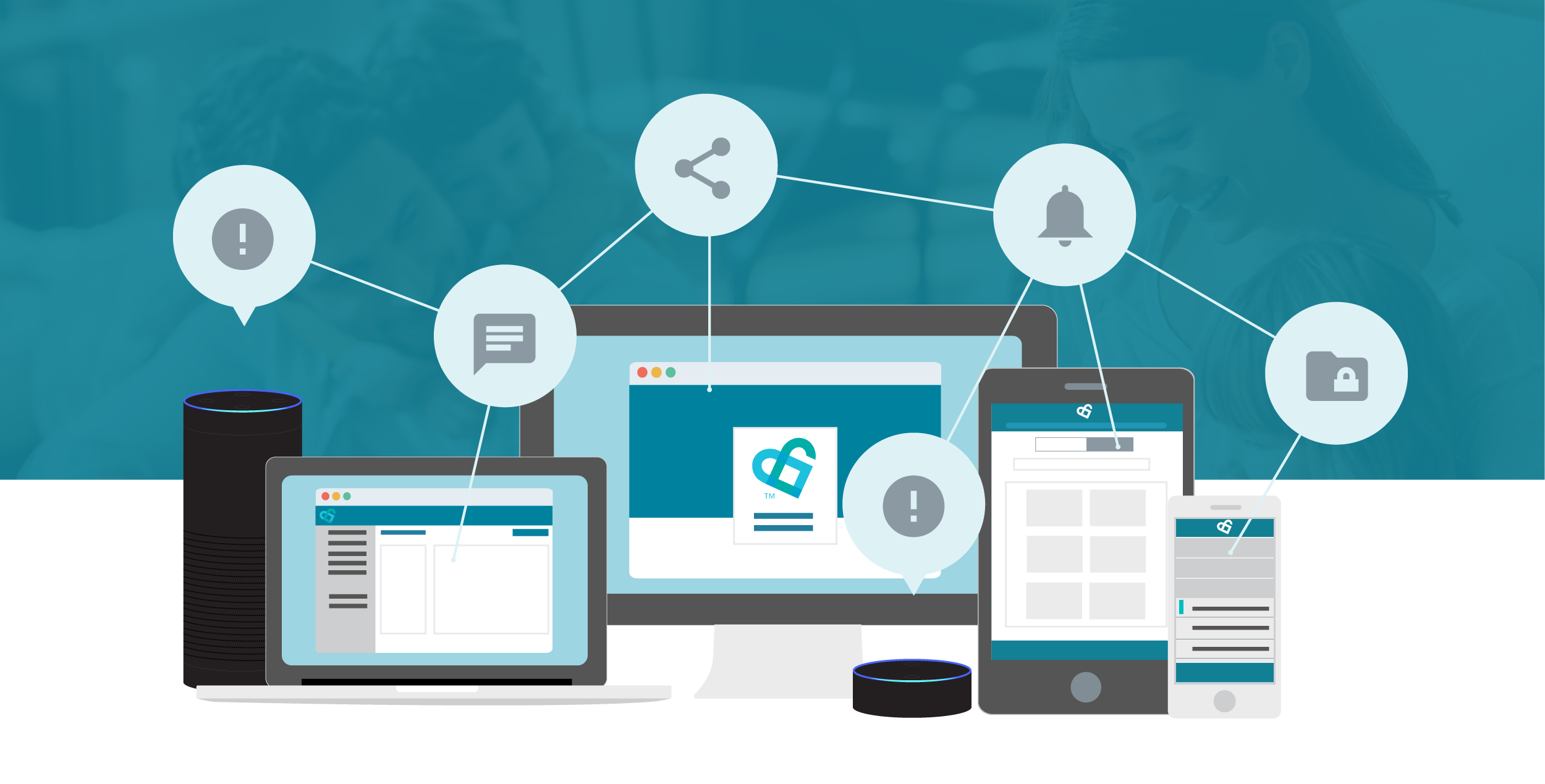 Today, LifeSite is thrilled to introduce LifeSite 3.0 - a fully reimagined user experience designed to improve your organization and efficiency while managing your information, and further improving our best-in-class security architecture.


LifeSite 3.0
New LifeSite Dashboard

The dashboard gives you a snapshot of recent and important activity for both you and your collaborators

News-style Activity Feed

One of the main widgets on your dashboard, your Activity Feed lets you know when your Life Information or File Vault was accessed or modified

Life Reminders

A returning favorite, your Life Reminders are also a dashboard widget, letting you know about events like insurance payments, medical deadlines, or upcoming appointments

Deeper File Vault organization

A second level of folders within your Custom Categories now allows for a more complex organization structure

Expanded Collaborator privileges

All your collaborators can now be given read only, full access, or blocked permissions for your LifeSite information and files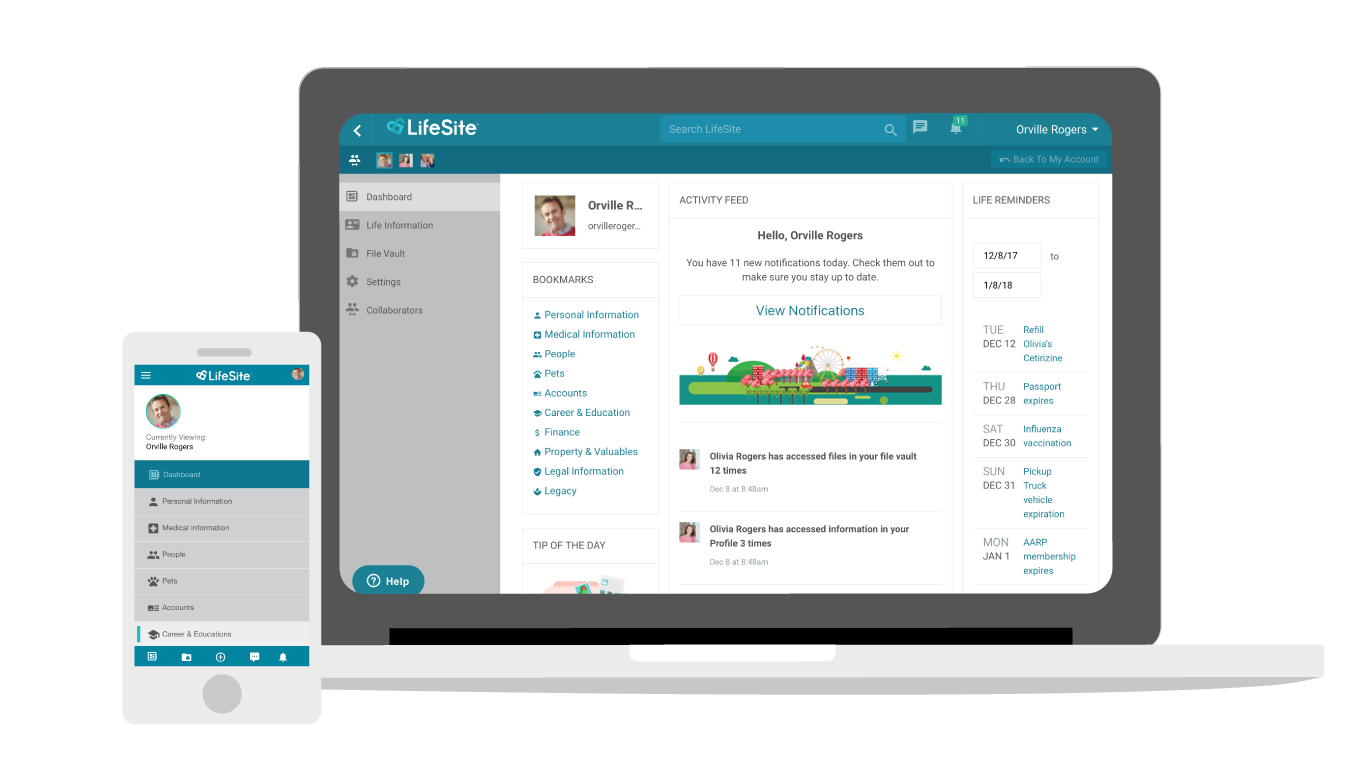 LifeSite Pro 3.0
Advisor File Vault

Storage for crucial documents such as templates and contracts (with client sharing coming soon!)

Cohesive Activity Feed

Holistic view of your clients' activity which creates opportunities to discuss important life changes

Client Navigation Bar

A streamlined navigation bar enabling you to easily search your client list and quickly navigate between clients

Additional Client Benefits

An updated version of our popular mobile application, and the introduction of our award-winning LifeSite skill for Amazon Alexa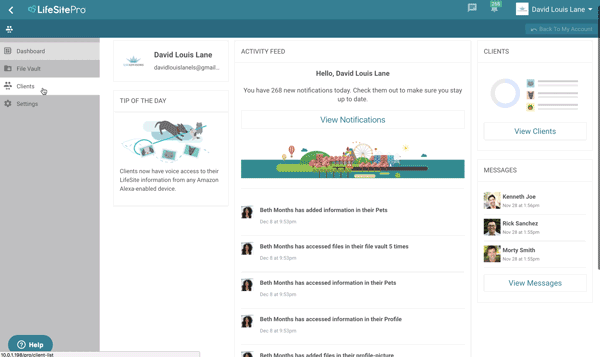 LifeSite Mobile 3.0
The LifeSite Mobile 3.0 app has undergone a similar refresh, sporting all of the same changes as the LifeSite 3.0 platform but keeping core features you're familiar with, including:

Built-in Mobile Scanner

New LifeSite Dashboard

Deeper File Vault organization

Expanded Collaborator privileges

Secure Messaging

LifeSite Amazon Alexa Skill 1.0
Our LifeSite skill for Amazon Alexa was built specifically to allow anyone with accessibility issues to quickly access your LifeSite information - anyone with difficulty using their hands, whose eyesight is poor, or is simply too stressed to log into a computer or mobile device.

Voice PIN protected

Only you can access your information using your LifeSite Voice PIN, set in your LifeSite account settings

Daily, Weekly or Monthly Life Reminders

Get your Life Reminders as often as you'd like with the LifeSite skill

Personal and Medical Life Information

Ask Alexa for all of your important personal and medical information. We'll be expanding the LifeSite information Alexa has access to in the very near future, and welcome your feedback on what you're looking for

From day one, LifeSite has been working towards a future that brings not only families but also advisors and clients together to share meaningful conversations across multiple generations. With LifeSite 3.0, we've taken a giant step towards that goal.
In the coming days and weeks, you'll see updates on a regular basis as we continue to innovate and evolve. Your feedback has always and will continue to drive our enhancements, so please let us know what you think about LifeSite 3.0 at feedback@lifesite.co.