Test are assigned a test status, from when they are first assigned to a patient (via a COV #) to when the test vial has been processed and assigned a result.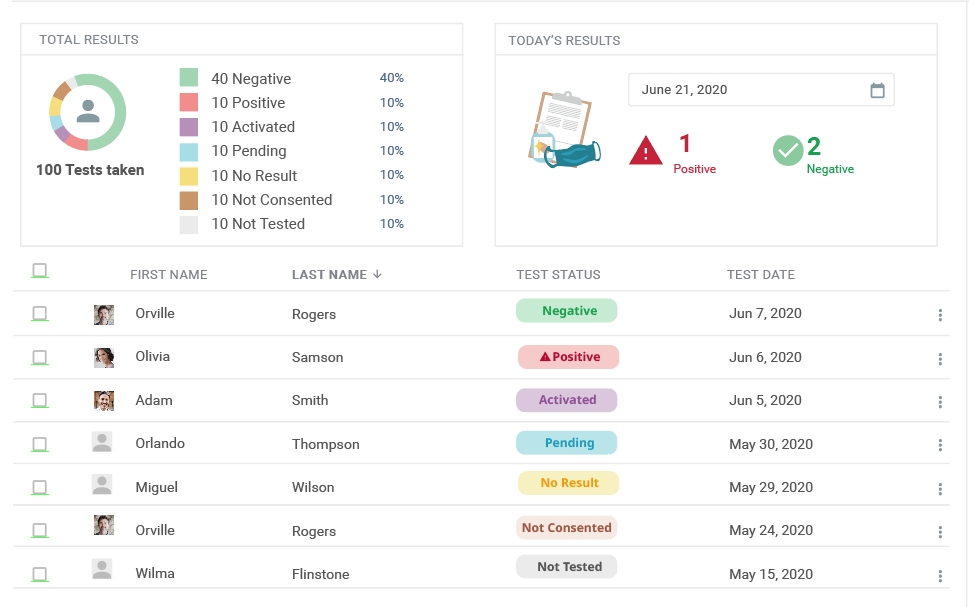 Negative: COVID-19 was not detected
Does not preclude the COVID-19 infection and should not be used as the sole basis for treatment or other patient management decisions. Not detected results must be combined with clinical findings, patient history, and epidemiological information.
Positive: COVID-19 was detected
In the correct clinical context, detection of viral nucleic acids can aid in the diagnosis of respiratory viral infection but does not rule out bacterial infection or other viral infections. Result is reported to the ordering provider, state, and local Public Health Department. Refer sample to the local Public Health lab for confirmation if necessary.
Activated: Test registered but not yet received or processed by lab
Pending: Test is currently being processed by lab
No Result: Test could not be processed and lab recommends a retest
Not Consented: Employee has not consented to share test results
Not Tested: No tests are registered with this employee