In case of emergency, it's important to prepare an emergency plan and kit, including digital copies of your most important documents.
Why use LifeSite for Emergency Preparedness?
Guided checklists

help you recognize what's important to keep in your emergency kit.

Paper documents are easily destroyed

in natural disasters and everyday accidents. An online backup of essential information keeps documents weatherproof.

Keep shared information up-to-date

in a central location that can be updated regularly.

Give family members instant access

to lifesaving information such as allergies, medical profiles, and emergency contacts through web and

mobile applications

.

Control sharing of information with granular permissions and activity tracking.
Create your emergency plan
The Disaster Preparedness & Recovery checklist template will guide you task-by-task through digitally storing emergency medical information. Information can be updated at any time.
From the Checklists page, use the Disaster Preparedness & Recovery checklist template to start preparing your information.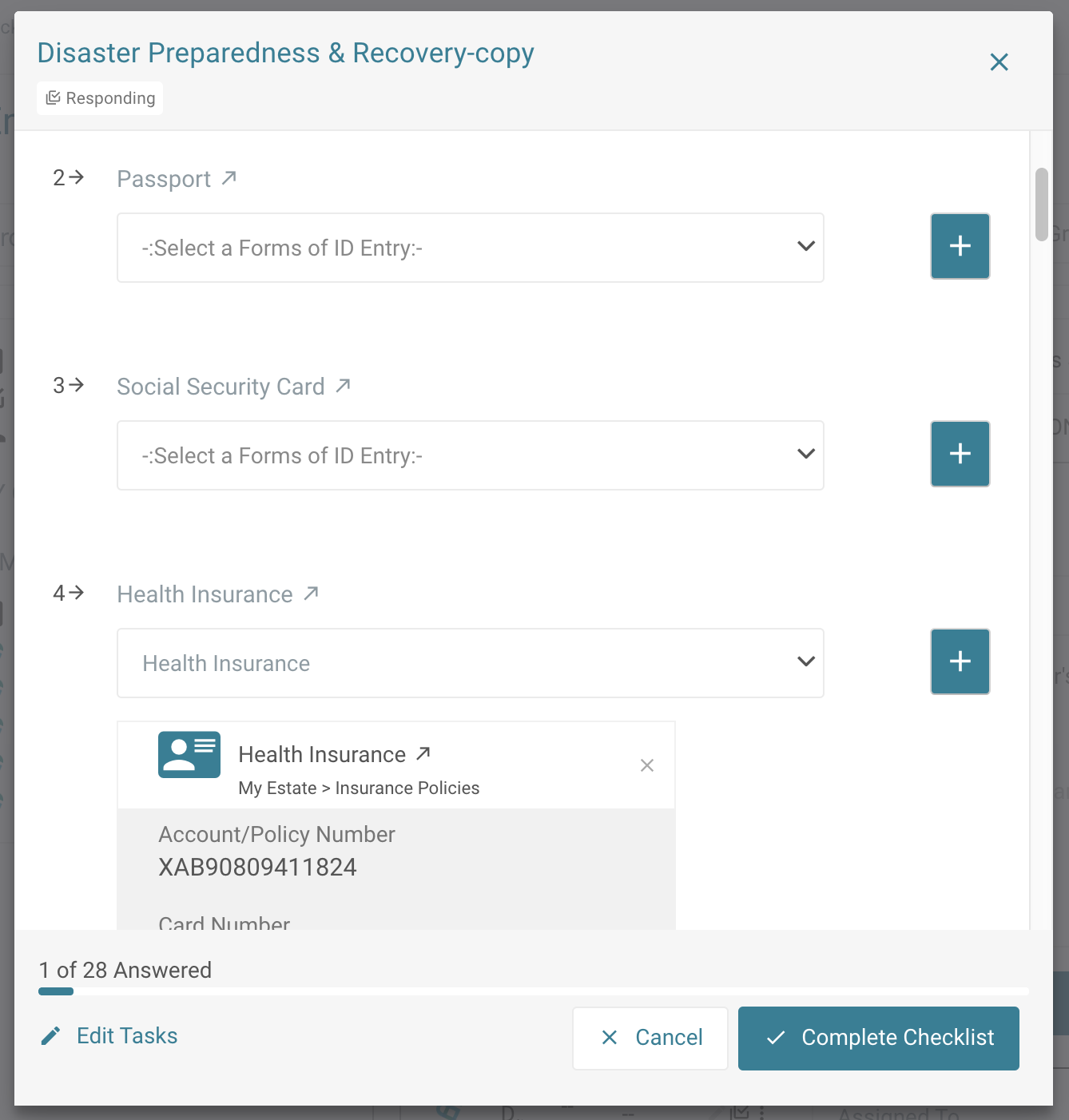 Create your medical profile
From the Life Information page, click on the section My Medical and then the category Medical Profile. Next, click +New to be guided through adding a new Medical Profile entry.
Share your LifeSite
Share your emergency plan with your loved ones. All sharing is based on granular permissions with Edit, Read Only, or Blocked permissions. Once access is granted, you are informed of collaborator access to your information via the in-app Activity Feed and email notifications. You maintain control at all times.
4 Tips Before Inviting
Only send

collaboration invites

to those you fully trust with your private information.

We recommend sharing with your close family members, including parents, children, and other loved ones who help you out on a regular basis.

Control what your collaborator can and cannot see in your

Permissions

.

Delete a collaborator

at any time.

Invite up to 5 collaborators.