The hardest part of estate planning is starting the conversation. Discussing a future you won't be a part of is difficult and uncomfortable, but necessary to avoid conflict and uncertainty for your loved ones. Use LifeSite to start sharing information that's important to your loved ones today, and ease into conversations about how it will change in the future.
Why use LifeSite for Estate Preparation?
One step at a time.

LifeSite's checklists help guide you through each task of an estate plan. Checklists can be completed in one sitting or at your own pace.

Share with an advisor. Preparing an estate is never a one person job. With granular permissions, you can choose how much or how little advisors and loved ones can see of your estate. Permissions can be changed or removed at any time.
Updated Documents.

Every time a major life event occurs, such as purchasing a major asset or a significant change in health status, estate documents need to be updated. LifeSite is a central location that can be quickly and easily updated on a regular basis.
Guided Checklists
A Checklist template is a quick way to get started with LifeSite. For estate planning, try the checklist template entitled Settling an Estate. Or ease into things by exploring more familiar Life Event checklists like My Digital Wallet, Welcoming a Baby, International Travel, or Daily Pet Care.
From the Checklists page, browse the template library circled below and see if any life events apply to you. Select a category or click All.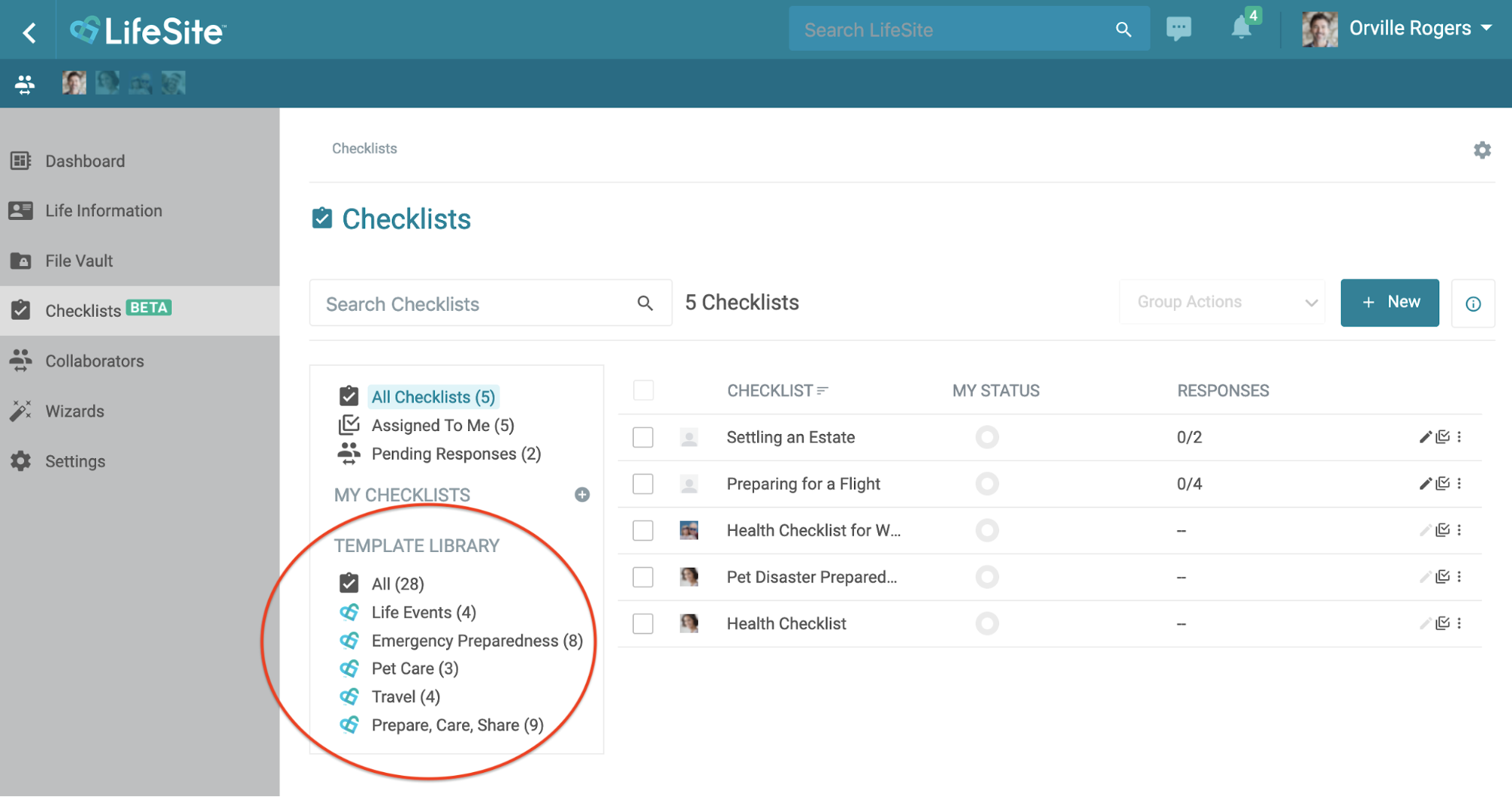 Share your LifeSite
All sharing is based on granular permissions with Edit, Read Only, or Blocked permissions. Once access is granted, activity is tracked in the Activity Feed and email notifications show when collaborators access your information so you maintain control at all times.
4 Tips Before Inviting
Only send

collaboration invites

to those you fully trust with your private information.

We recommend sharing with your close family members, including parents, children, and other loved ones who help you out on a regular basis.

Control what your collaborator can and cannot see in your

Permissions.

Delete a collaborator

at any time.

Invite up to 5 collaborators.
Life Booklet
Your Life Booklet is an easy-to-read PDF backup of your LifeSite. Once your booklet is created, print it as a physical reference or an additional backup to your vital information, or save the PDF to a secure USB flash drive for peace of mind.